Notes on "Swag"

(…with apologies to Susan Sontag, of course.)
Visiting the trade show at the EDUCAUSE conference requires strategy. At one time it was simple: collect every pen being given away (having some conversations with vendors in the process), so that back home the kid could give them to his friends at school. Kid grew up, though, and there came "No more pens, Dad, please."
After that I usually walked around with Ira Fuchs, who had an excellent eye for the interestingly novel product. But Ira hasn't been attending, so I've taken to observing two things: how vendors staff their booths, and what they give away–the swag.
Who
The interesting thing about staffing is what it tells us vendors assume about higher-education IT, and especially what they assume about our procurement decisions. I track two variables: whether booths are staffed by people who know something about the product and higher education, and whether they're chosen for reasons other than expertise.
This year the booth staff seem reasonably attuned to product and customer, and, with the exception of some game barkers, two people dressed up as giant blue bears, and two women dressed like 1950s flight attendants, most of them pretty much looked like the attendees, except with logos on their shirts.
To be be more precise, the place wasn't full of what are sometimes called Demo Dollies, attractive young women with no product knowledge deployed on the assumption that they will attract men to their booths (and therefore on the assumption that men are making the key decisions). That there aren't many of them is good, since a few years back things were quite different, reaching a nadir with the infamous catwomen. We don't want industry thinking of higher education as a market easily influenced by Demo Dollies.
What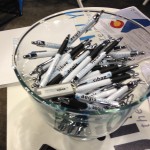 The interesting thing about swag–the stuff that vendors give away–is that it tells us something about the resources vendors are committing to higher education, the resources they think are available from higher education, or both. There are two dimensions to swag: how swanky it is, and how creative it is.
I spent some time on this year's tradeshow floor looking for swag that rose above the commonplace, and here's what struck me: there wasn't much. There were lots of pens (which I'm still not allowed to bring home), lots of candy, and lots of small USB thumb drives, all of course bearing vendor logos. I count those as neither swanky nor creative.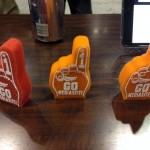 The growing swag sector is stuff made out of foam or soft plastic. This includes baseballs, footballs, various kinds of phone-propper-uppers, can holders, and a few creatures and cartoon characters. Some of this related in some way to the vendor's product or slogan or brand, but most of it didn't. The foam stuff was mildly creative, except it's less and less so each year; there was lots more of that this year than last.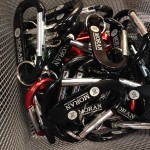 There were also various items that weren't intrinsically creative, and also not swanky, but were distinctive, if only because few vendors offered them.
There were keychain carabiners (which I always look for, since I keep leaving them in rental cars–and this year only two vendors had them), earphones, t-shirts (remarkably few of those compared to previous years, when they were ubiquitous), USB chargers, corkscrews, can openers, pens that light up, baseball caps, and kitchen utensils (my personal favorite, I think). Several vendors told me the one to get was a jump rope with blinking handles, but I couldn't find it. Next year.
(I've uploaded photos of the distinctive swag to an album on my Facebook account.)
So…
…here's the thing. That most of the available swag was low-end and uncreative may disappoint those who take lots home for friends or family or colleagues or whomever. It also may mean that vendors selling to higher education aren't as flush as they once were, or think we aren't; both of those are probably somewhat true, and neither is especially good news.
Combined with the dearth of Demo Dollies, though, I see the situation somewhat more positively. It seems to me that even though they may be less flush, this year's vendors are taking the higher-education market seriously, using knowledgeable staff rather than artifice to engage customers, who may also be less flush, and sell product wisely.
That, as Martha Stewart would say, is a good thing!
Posted September 30th, 2014 in
Uncategorized
. Tagged:
"Greg Jackson"
,
"Gregory A Jackson"
,
"higher education"
,
"information technology"
,
"trade show"
,
Campus
,
EDUCAUSE
,
gjackson
,
IT
,
jgackson
,
swag
.