Help! I need somebody. But whom?
My mother called a couple of weeks ago to say she was unable to use the Internet. She doesn't make calls like this lightly – she's a regular email user, does extensive research online about things ranging from food to politics to textiles, and learned to use instant messaging so she could stay in touch with her grandchildren. And she understands that her HP computer is connected to RoadRunner and thereby to the Internet. So this wasn't just her being new to technology.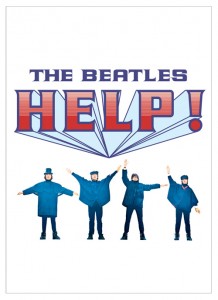 I figured that she must have somehow lost her network connection, and began walking her through some experiments ("Are the lights blinking on the modem?", and so on). But I was over-analyzing the problem. To my mother, as to many users, the Internet isn't a network. Rather, it's the collection of sites and services she can reach through her web browser. The problem, it turned out, was that my mother had accidentally moved the Firefox shortcut off her desktop. No icon, no browser. No browser, no Internet. No Internet, get help.
My mother's missing icon may seem a triviality, but it certainly wasn't trivial to her, and I think the problem and how she handled it are instructive. Lots of services we take for granted these days don't come from a single provider or involve a single application or technology. In fact, sometimes it's not clear what's a service, what's an application, and what's a technology. Mostly that works out okay. When it doesn't, though, it's very hard to figure out where the chain broke down. Even when we figure that out, it's hard to get the provider that broke the chain to fess up and make things right.
Perhaps as a consequence, we IT folks get lots of calls like my mother's from friends and relatives: "My printer stopped working. Can you tell me what to do?", or "How come Aunt Jane didn't receive my email?", or "I just clicked on something in a website, and now my screen is full of pornography ads", or "Is it safe to buy something from eBay?", or "Can I get my email on my phone?". Why, we wonder, are they calling us, and not whom they're supposed to call?
That's the text today's rumination: What's the right way to think about help desks?
I started typing this using Windows Live Writer (Microsoft) on the Windows 7 (Microsoft, but a different part) computer (Dell) that is connected to the network (Comcast, Motorola, Cisco) in my home office, and it'll be stored on my network hard drive (Seagate) and eventually be posted using the blog service (WordPress) on the hosting service (HostMonster) where my website and blog reside. I'll keep track of blog readers using an analytic service (Google), and when I'm traveling I might correct typos in the post using another blog editor (BlogPress) on my iPhone (Apple) communicating over cellular (AT&T) or WiFi (could be anyone) circuits.
Much of today's IT is like this: it involves user-owned technologies like computers and phones combined in complicated ways with cloud-based services from outside providers. We're always partly in the cloud, and partly on the ground, partly in control and partly at the mercy of providers. That's great when it works. But when something doesn't work, diagnosis can be fiendishly difficult – especially if one is 2,000 miles away and can't see one's mother's screen.
My mother has a solution to this: she has a local kid on retainer, her "guru". She calls him when something doesn't work, and he comes over to diagnose and fix the problem. She called me because her guru was on vacation.
Why doesn't my mother call the RoadRunner or HP help desks? She's not alone in this: vendor help desks seem to be users' last resort, rather than their first. Most of us would explain this in two words: "Silos" and "India". Help desks grew up around specific technologies or applications. Users dealt with one help desk if their wired phone wasn't working, another to straighten out a cellphone problem, another if their email was over quota, another to figure out how to do online journal transfers from their desks, another to tighten up computer security, and so on — hence, "Silos". On the other end of the phone, service providers developed highly specialized help desks comprising inexpensive staff working from very specific databases of known problems and stock solutions ("India").
This worked so long as technologies were actually separate. But in this age of everything connected to everything else, it doesn't. Far too many help-desk interactions comprise a distant help-desk technician not finding the problem in the database, usually because the problem involves inter-application pathology. As a last but frequent resort, the help desk has the user reboot (or restore to factory specs, or whatever). Once users realize that help desks solve all problems with reboots, they don't bother calling help desks. They reboot. When reboots don't work, they call their friends and relatives.
We know how to fix this, right? Consolidate help desks, cross-train staff, and all will be well.
That hasn't worked either. Cross-training staff to deal with complex inter-technology problems means we need really clever technology folks as help-desk staff, or even to divert developers and integrators to that task. Staff who rely on knowledge bases simply can't cope with the typical cross-technology problem, as we know from the India silos. But hiring or diverting experts is expensive. To solve that problem, we implement first-tier triage, so that expensive staff only deal with expensive problems. But none of this works: there's still too much rebooting, and users remain dissatisfied.
My mother has the right idea. Today's help desks typically work for providers — be they commercial or internal to colleges and universities — and not for users. Help desks' incentives are aligned with the providers' bottom lines, not with understanding how their provider's service fits into the user's environment.
The solution, I propose, may be to have users own help desks.
What would that mean? In the typical college or university, there are help desks operated by service providers (both central and departmental), and there are help desks operated by non-provider departments. Users typically find the latter helpful and worthwhile, and complain extensively about the unresponsiveness of the former. The result is structural tension at the senior level between the overseers of non-provider help desks (typically deans) and overseers of provider help desks (typically a CIO, or whoever's in charge of central IT). Usually the tension either goes unresolved or, especially when corporate-style consultants are involved, provider-based centralization wins.
Maybe that's precisely the wrong answer. Perhaps campus IT service providers should not own help desks. Instead, colleges and universities might rely on entities close to users — administrative units, academic departments, centers, building management — to provide first-level support. Realigning help desks this way wouldn't be easy. It would raise budgetary issues, governance issues, local-control issues, centralization issues. It would entail diseconomies of scale.
But help-desk staff would understand users' circumstances holistically — much as my mother's guru understands her environment . This would make them better IT diagnosticians and therapists. If users got better diagnosis and therapy for their IT problems, they'd be more productive. And those productivity gains might amply offset the increased costs of localized, realigned help desks.
Posted November 4th, 2010 in
Uncategorized
. Tagged:
"Chief Information Officer"
,
"College"
,
"Greg Jackson"
,
"Gregory A Jackson"
,
"help desk"
,
"higher education"
,
"information technology"
,
"IT Policy"
,
"University"
,
CIO
,
gjackson
,
IT
,
jgackson
.