(The original version of this post, which contains more images and allows comments, is on LinkedIn, http://gregj.us/22ljHT3)
In 1960 there was one national organization focused on higher-education IT: CUMREC, founded ten years after ENIAC to provide "…a forum for higher education professionals to share their expertise and experiences with computerized systems." CUMREC was followed shortly by SIGUCCS and EDUCOM. Today there are over 20 such organizations, which might be unremarkable, but also might be important:
The missions and activities of today's organizations often overlap. That can lead to unnecessary redundancy. It may be time to think analytically about the array of inter-campus IT organizations.
Higher education is under pressure to control costs. Protected by the technology cost curve, in the past IT groups rarely needed to tighten their non-technology belts. The curve having flattened, campus IT costs are under scrutiny—including costs associated with national organizations.
National organizations negotiate with and guide providers on behalf of higher education, especially as control over many key resources shifts from campus IT groups to outside providers. Effective negotiation requires consistency, leadership, commitment, and coherence.
My first national higher-education IT meeting was EDUCOM's 20th anniversary conference, in 1984, at the Hyatt Regency in Cambridge. (Some of us knew this as the Joyce Chen Hyatt, since it was near the site of the eponymous chef's second restaurant, which had been replaced by MIT's Next House long after Chen's PBS Chinese cooking show was broadcast from Julia Child's set atWGBH, and long before Mary Chung's became the darling of local IT staff and AI researchers. But I digress.)
Motivated in part by the people and issues I encountered at that EDUCOM conference—notably a report on Project Athena's plans for transforming undergraduate education—I gradually moved out of faculty life and into IT administration. I served as a Board member for EDUCAUSE, Internet2, and NLR; participated actively in CSG, RUCC, and the Ivy+ and CIC CIO groups (a list of these and other acronyms is at the end of these notes). I attended myriad regional and national events. Later I was EDUCAUSE's Vice President for Policy for three years.
These experiences and the resulting biases doubtless color my reading of history, inferences about the past, and thoughts about the future. Although I suggest ways that organizations for higher-education might further evolve, my purpose is not to advocate those, but rather to illustrate possibilities. Others will read, infer, and think differently. The central points are that evolution is necessary and likely, that thoughtful evolution is better than the other kind, and that this can best be had through open, wide-ranging discussion of past and future.
Timeline
CUMREC and EDUCOM no longer exist. The former begat CAUSE, which later merged with the latter to form EDUCAUSE, which in turn absorbed CUMREC. SIGUCCS still meets annually. Meanwhile, the number of organizations has grown (click on the timeline for a full-size version):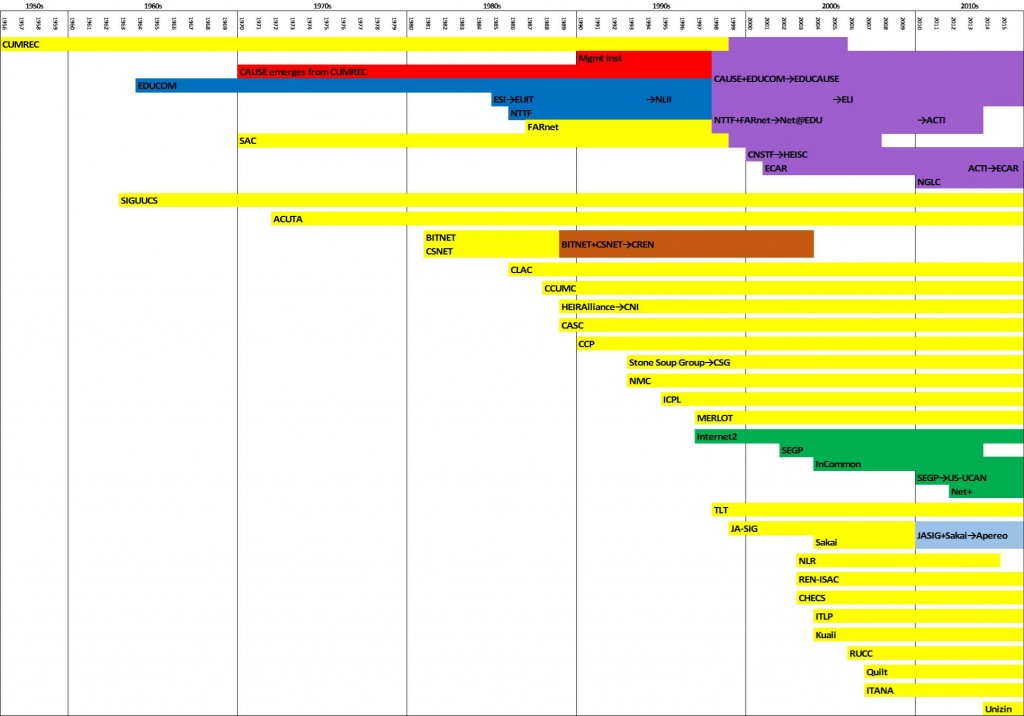 The timeline includes all national higher-education IT organizations I can think of, albeit defining "national" and "organization" somewhat arbitrarily, and with four exclusions:
There has been one major merger: CAUSE (red in the timeline) merged with EDUCOM (blue) to form EDUCAUSE (purple) in 1998. There have been two smaller mergers: BITNET and CSNET into CREN (orange) in 1989, and JA-SIGand Sakai into Apereo (lilac) in 2010. EDUCOM, CAUSE, and the merged EDUCAUSE have substantial sub-organizations, shown on separate lines within their color blocks. So does Internet2. Since 2010 I count one organizational demise (NLR) and one birth (Unizin).
Drivers
Four influences have driven most of this evolution, I think: technology, scale, community, and leadership. Sometimes they synergize, and sometimes they diverge.
Technology
Early IT organizations emerged to help staff and leaders share experiences with new and changing technologies across campus boundaries, rather than to procure or operate technology directly. So did successors such as CSG, RUCC, CLAC, ITLP, ICPL, and most of the instructionally-focused organizations such as NMC, NGLC, TLT, andMERLOT.
In contrast, some later IT organizations focused on technology itself. ACUTA, BITNET, Internet2, NLR, the Quilt, JA-SIG, Sakai,Kuali, and Unizin all came into existence largely to procure, develop, and/or operate IT on behalf of higher education. Some industry-allied groups also focused on technology development, notably IBM's AEP and SHARE (specifically, the latter's university subgroup) and Apple's AUC.
As technology changes, mission can broaden or change accordingly, or sometimes become obsolete. For example, the missions of EDUCOM, ACUTA, Internet2, and CSG broadened over time. Those of CREN, FARNet, and CUMREC shrank. EDUCAUSE absorbed some smaller entities with shrinking raisons d'être. Similarly, missions can converge over time, and so entail mergers like Sakai+JA-SIG and EDUCOM+CAUSE.
Scale
Small organizations often manage without dedicated staff. However, if an organization has large or frequent meetings, collects dues, maintains a website, operates programs, or provides services, it needs staff and management. Economies of scale become important—in particular, sharing fixed costs among more members.
This is one reason organizations grow, like Internet2 and EDUCAUSE, or merge, like EDUCOM and CAUSE. Of course organizations also grow as IT becomes important to broader audiences within higher education, and/or because of demand for their products and services—for example, more campuses wishing to use Internet2's networking or identity-management products, or to gain access toECAR's research, or to implement Kuali systems.
Organizations can aggregate individual campuses' demand for standardized products and services, and then use that to negotiate attractive terms with vendors. Growth increases their leverage with vendors. Internet2 began this way, negotiating rights to high-performance networks to interconnect Internet2 members and replace expensive one-to-one connections. That mirrored earlier regional demand-aggregation efforts such as NERCOMP and MHEC, as does Internet2'sNet+ today.
Yet organizations sometimes resist growth, and for good reason: their value—such as creating and maintaining community—may depend on compactness. To gain economies of scale without growing, smaller organizations sometimes ally themselves administratively with larger ones, as SAC did with EDUCAUSE, or base themselves on a member campus, as CSG did with the University of Michigan.
Community
In his flip-but-serious comitological study of national cabinets(comitology: "the study of committees"), C. Northcote Parkinsonobserved that optimally-sized organizations have a counterproductive tendency to attract new members and lose focus. Eventually, he argued, they grow beyond a "coefficient of inefficiency" whereupon they no longer work well. Smaller subgroups arise and supplant them.
For cabinets and committees, Parkinson suggested that the coefficient of inefficiency is around 20. Certainly this applies to many higher-education IT organizations—regional or sectoral gatherings of peers, for example, or industry advisory groups, or task forces, or boards.
But most national higher-educational organizations have many more than 20 members, and so operate beyond Parkinson's coefficient of inefficiency. Yet his observations still ring true. Perhaps a Parkinson-like "coefficient of impersonality" comes into play for organizations whose meetings become too large for attendees to recognize and understand one another. Like Parkinson's coefficient, the precise boundary would vary with organizational specifics, but it might be around 200.
One might argue, for example, that SAC evolved from a training seminar for computer-center directors "… recruited from the ranks of faculty … [without] much, if any, administrative or management experience" (as NSF had suggested) into an annual "… collection of informal discussion groups … for reflecting on and translating what was shared…" not because discussion groups provided administrative training for faculty, but because EDUCOM and CAUSE meetings, once community-sized, had grown too large. (SAC met during the summer at a resort in the Colorado mountains, and so also had intrinsic appeal—some attendees even rented condos, and brought along spouses and families.)
Although ECAR and Internet2 came into existence with specific substantive missions, incidentally their meetings drew only 100-200 individuals, many of whom were regulars familiar with one another. ECAR and Internet2 thus could provide community for long-time EDUCOM attendees feeling lost among thousands at EDUCAUSE, and this may have contributed to their success. (Like SAC, ECAR held its symposia at attractive venues, but Internet2 met at a generic conference hotel near DC's National Airport.)
What goes around comes around: RUCC may appeal to its members in part because Internet2's meetings have now grown beyond the initial core of research-university CIOs and networking experts. And then it comes around again: Some early RUCC participants, who came almost entirely from AAU campuses, complain that the group has become less useful as its membership has broadened—even though that broadening is only to other research universities.
Although communities often originate around substantive interests and goals, sometimes they continue to exist simply because they are communities, and thereby remain valuable to their members despite (or even without) any substantive origin or mission— what Kurt Vonnegut called granfalloons.
Organizations may remain small enough to promote community because they have hard-to-meet membership requirements, however, and those requirements may work intentionally or unintentionally to isolate communities that should interact.
Anyone could attend SAC, for example, but only if they (or their campus) could afford the relatively high travel and lodging costs. Any institution could send two people to ECAR symposia, but only by paying extra dues. Any institution could participate in Internet2, but only by paying steep dues, and (at least in the early days) by committing to major investments in campus networking. Members of consortia such as Sakai and Kuali generally contributed developers and/or cash, and usually chose to implement the consortium's applications. RUCC confines its membership to research-university CIOs, and CLAC does likewise for elite liberal-arts college CIOs. CSG, after growing from 15 members, now limits membership to twice that.
Requirements such as these make substantive sense, and may promote coherence and sharing. But they exclude those who cannot (or will not) meet them. Especially if many community-building organizations pursue the same members—for example, affluent or elite institutions—the result can be can be sharp divisions between haves and have-nots. Another can be counterproductive substantive segmentation akin to that which doomed AAHE, an earlier middle-management organization whose broad focus on higher education gave way to narrow caucuses focused on particular issues and sub-communities. Many of those atrophied or became independent, leaving the parent organization purposeless.
Leadership
Higher-education IT organizations sometimes arise organically, emerging from the collective will of their potential members. Alternatively, a few organizations depend heavily on (or are) one individual: CCP (Casey Green), CHECS (Wayne Brown), and perhaps CNI (Cliff Lynch) come to mind. More typically, a few individuals catalyze interest around a shared goal, and then step aside, once the organization is built, in favor of governance mechanisms designed for orderly leadership transition and organizational longevity.
But in addition to unit and catalyzed organizations, there are entities whose culture and progress appear to center on a specific "visionary," "charismatic," "dynamic," "unique," or otherwise distinctive leader through much of their existence. Examples include CSG (Ken King), Internet2 (Doug van Houweling), BITNET (Ira Fuchs), ECAR (Richard Katz), NLR (Ron Johnson and Tom West), ESI and TLT (Steve Gilbert), and entities such as Sakai, Kuali, and Unizin (Brad Wheeler and/or James Hilton). Sometimes such leaders migrate: NTTF, for example, was founded by Ken King and Doug Van Houweling; King would later head EDUCOM and then create CSG, while Van Houweling would later serve as Internet2's long-term CEO.
Long-term leaders can disproportionately affect organizational choices. This is often for the good: they can make riskier, bolder, and more forward-looking decisions than their orderly-governance peers. But it can be for the less good: resistance to change, or personal preferences out of sync with technology or higher education, or relationships—bad or good—that inhibit progress or synergy. In any event, the departure of long-term leaders usually triggers substantial rethinking, dislocation, and adaptation.
That different drivers lead different organizations to follow divergent paths is important, because how an organization has evolved has implications for how it might evolve. Similarly, how closely one organization's drivers resemble another's has implications for how they interact, and can impose constraints on how closely they can align.
Consequences
By 1990 I was attending five or six national IT meetings a year—usually EDUCOM and/or CAUSE, ESI/SAC, and three or four others. By 2000, when I was CIO for the University of Chicago, EDUCOM and CAUSE had merged into EDUCAUSE, and ESI had been subsumed therein as NLII, consolidating a few meetings. But now there were Internet2, CSG, JA-SIG, CASC, NMC, CNI, and some other groups, many of which wanted me to attend (and I wanted to attend). Likewise, several IT groups defined by region (CIC-CIO, four meetings a year) or category (Ivy+ CIO, two) wanted my time. So did various industry advisory groups (Dell,Gateway, Sun, SCT, Apple). RUCC, ITLP, and a few others came later.
By the mid-oughts UChicago was paying dues and fees at least to EDUCAUSE, its subsidiaries ECAR, Net@EDU, and the Management Institutes, to Internet2 and its subsidiary Abilene, and to NLR, CSG, ACUTA, CNI, ITLP, and CIC-CIO. We were sending at least one person (and often more) to annual or even more frequent meetings of these and other entities. There was competition for scarce resources like dues, travel budgets, and IT leadership time. None of this was unique to me or to UChicago: it was and remains a frequent topic of conversation among CIOs, especially those from larger campuses.
When IT leaders suggest there should be fewer IT organizations, often what they have in mind is expense. Having fewer organizations probably would address that. But arguing that higher education would be better off were its national IT organizations to consolidate into a well-differentiated few oversimplifies the situation. So does believing that the only obstacles to this are organizational inertia and personality conflicts. Such arguments and beliefs gloss over the interacting influences that have brought us to this point, such as those I outlined above, and the complex value that current organizations provide to their members specifically and to higher education IT generally. Then again, ignoring such arguments and beliefs glosses over the fact that organizational inertia and personality conflicts actually can impede progress. A tricky road lies ahead.
To think about that road, we should move beyond history, and revisit why we need national higher-education IT organizations at all.
Needs
I suggest four reasons to have national higher-education IT organizations:
to procure and/or provide services, professional and technological,
to promote technology innovation for education, research, or community,
to organize advocacy on behalf of IT, nationally and for campuses, and
to enable and enhance communal sharing of experience and wisdom.
We need organizations to do these things effectively, efficiently, and inclusively.
In my view we come closest to this goal in the first area: several organizations serve members without imposing unnecessary restrictions, with the occasional exception of requirements intended to promote membership or advance certain technologies. The service landscape is complex, but it is becoming reasonably complete. We fall somewhat short in technology and advocacy, in part because other innovators have overtaken higher education, and because responsibility for advocacy has diffused across multiple organizations whose interests do not necessarily align.
The situation is even less satisfactory for communal sharing. An inner circle comprising major research universities, elite liberal-arts colleges, and a few other institutions and systems—perhaps 250 of the 5,000 American degree-granting colleges and universities—enjoys effective communal sharing and mutual support hosted by diverse national organizations. For IT leaders, staff, and organizations in this circle, the problem can be a surfeit of sharing rather than a dearth. A second circle, including most larger state-university campuses and community colleges, finds some community—less than the first circle's—at EDUCAUSE annual and regional conferences. Other communities exist for some institutions in this circle, but they have limited reach: for example, the League provides community for a subset of community colleges, and some campuses in this circle participate in regional IT organizations, Internet2, ACUTA, or SIGUCCS.
Then there is a third circle, whose IT leaders, staff, and organizations have few opportunities for communal sharing. For example, although almost a third of degree-granting campuses belong to EDUCAUSE, many of these have no involvement beyond than paying dues and joining online constituency groups, and they belong to no other national IT organization. Then more than 2,000 campuses apparently belong to no national IT organizations—mostly small private or religious institutions, I believe, or isolated public campuses, or highly specialized institutions.
Prospects
When CAUSE and EDUCOM merged, one name proposed the combined organization was THETA, for "The Higher Education Technology Association." Partly because of the acronym's other meanings (theta.com, for example, is a website for the Church of Scientology), and partly because the "the" implicitly threatened other organizations' autonomy and suggested somewhat broader authority for the new organization than anyone envisioned, the proposal went nowhere.
Putting aside what it might have been called, a broadly construed umbrella organization could have consolidated overlapping activities of EDUCAUSE, SIGUCCS, ACUTA, and other entities serving the profession generally. It could have established good relationships with more focused entities like CSG, RUCC,ITANA, regional IT groups, and those focused on teaching and learning. It might have provided a broad array of staff development and organizational research, and efficient back-office services. It could have sponsored or hosted a diverse array of large and small gatherings, with varying foci and degrees of autonomy, to promote community.
Meanwhile, a parallel organization—which might have been called EDUCORE, following a suggestion by Ira Fuchs—could have focused on procuring, developing, negotiating, and delivering technology services to colleges and universities. A broadly-construed umbrella for development and procurement might have resembled today's Internet2 augmented by organizations like Apereo, Kuali, and Unizin.
Because of the diverse origins, drivers, and cultures through which higher-education IT organizations have proliferated and evolved since CUMREC, consolidation under a small number of umbrella organizations has never been likely. Moreover, as I pointed out above, it might have left important needs unmet, and so been counterproductive. Even so,   thinking about hypothetical umbrella organizations conceptually—sort of like Einstein's gedankenexperiment—could guide progress.
There could be more consolidation of meetings, for example, so that IT leaders and staff face fewer difficult choices. Dues could be more rational across various organizations, including "combo" plans, standard member categorizations, and perhaps cross-organization conference discounts. Duplicative activities such as overlapping surveys and reports might consolidate, or the same might happen for back-office functions like finance, HR, membership records, meeting planning, and even public relations. Entities whose services are no longer needed—or that belong with others—could give way gracefully.
We might diversify and broaden existing organizations to provide effective communities for underserved audiences, not just create new ones for well-served elites. We might better differentiate activities focused on IT organizations and staff from those intended to procure or develop specific technologies. We might attend to the widespread need for optimal communities and sharing opportunities, be they substantive entities or granfalloons.
Higher-education IT organizations have evolved, communities have come and gone, and leadership has changed. But their purpose stands. After all, Unizin, the newest organization in the timeline, seeks "…to improve the learning experience by providing an environment built on collaboration, data, standards, and scale." That goal echoes and reaffirms CUMREC's from almost sixty years ago—which is both reassuring and sobering. We have achieved much, and much remains to be achieved.
National Higher-Education Information Technology Organizations
 
 
 
 
Acronym
Organization
Start
End
AAHE
American Association for Higher Education
1969
2005
ACE
American Council on Education
1918
ACM
Association for Computing Machinery
1947
ACTI
EDUCAUSE Advanced Core Technologies Initiative
2010
ACUTA
Association for College and University Technology Advancement
1972
AEP
IBM Advanced Education Program
1983
ALA
American Library Association
1876
Apereo
Apereo
2010
ARL
Association of Research Libraries
1932
AUC
Apple University Consortium
1984
BITNET
Because It's {Time,There} Network
1981
1989
CASC
Coalition for Academic Scientific Computation
1989
CAUSE
College and University Systems Exchange
1970
1998
CCP
Campus Computing Project
1990
CCUMC
Consortium of College and University Media Centers
1988
CDS
EDUCAUSE Core Data Service
2002
CENIC
Corporation for Education Network Initiatives in California
1996
CHECS
Center for Higher Education Chief Information Studies
2003
CIC
Committee on Institutional Cooperation
1958
CLAC
Consortium of Liberal Arts Colleges
1986
CNI
Coalition for Networked Information
1990
CNSTF
Computer and Network Security Task Force
2000
CREN
Corporation for Research and Educational Networking
1989
2003
CSG
Common Solutions Group
1993
CSNET
Computer Science Network
1981
1989
CUMREC
College and University Machine Records Conference
1956
2005
DPN
Digital Preservation Network
2012
ECAR
EDUCAUSE Center for Analysis & Research
2001
EDUCAUSE
EDUCAUSE
1998
EDUCOM
EDUCOM
1964
1998
ELI
EDUCAUSE Learning Initiative
2005
EMI
EDUCAUSE Management Institute
1998
ESI
EDUCOM Software Initiative
1985
1993
EUIT
EDUCOM Educational Uses of Information Technology Program
1985
1993
FARnet
Federation of American Research Networks
1987
1998
HATHI
HATHI Trust
2009
HEIRAlliance
Higher Education Information Resources Alliance
1989
HEISC
Higher Education Information Security Council
2000
ICPL
Institute for Computer Policy and Law
1995
InCommon
InCommon Federation
2004
Internet2
University Corporation for Advanced Internet Development
1997
ITANA
Enterprise Architects and Business Architects in Academia
2007
ITLP
IT Leadership Program (MOR)
2004
JASIG
Java in Administration Special Interest Group
1999
2010
JISC
Joint Information Systems Committee
1993
Kuali
Kuali Foundation
2004
League
League for Innovation in the Community College
1968
MERLOT
Multimedia Educational Resource for Learning and Online Teaching
1997
Mgmt Inst
CAUSE/EDUCAUSE Management Institute
1990
MHEC
Midwest Higher Education Compact
1991
NACUBO
National Association of College and University Business Officers
1962
NERCOMP
Northeast Regional Computing Program
1957
NET@EDU
Net@EDU
1998
2010
Net+
Internet2 Net+
2012
NGLC
Next Generation Learning Challenges
2010
NLII
National Learning Infrastructure Initiative
1994
2005
NLR
National Lambda Rail
2003
2014
NMC
New Media Consortium
1993
NSF
National Science Foundation
1950
NTTF
EDUCAUSE Networking and Telecommunications Task Force
1986
1998
Quilt
The Quilt
2007
REN-ISAC
Research and Education Networking Information Sharing and Analysis Center
2003
RUCC
Research University CIO Conclave
2006
SAC
Seminars on Academic Computing
1970
2007
Sakai
Sakai Foundation
2004
2010
SEGP
Internet2 Sponsored Educational Group Participant
2002
2013
SHARE
IBM Large Scale Scientific Computing User Group (University subgroup)
1962
SIGUCCS
Special Interest Group on University and College Computing Services
1963
TLT
Teaching, Learning, and Technology Group
1998
Unizin
Unizin
2014
US-UCAN
United States Unified Community Anchor Network
2010